Welcome to Our Practice
Dentist Tinley Park, IL - Guy H. Gattone, DDS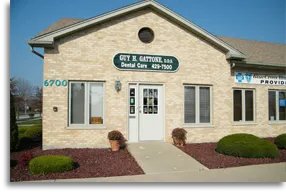 Do you find going to the dentist to be a stressful experience? Have you had trouble finding a dental office that provides general dentistry and cosmetic dentistry under one roof?
Then you need to call Dr. Gattone! For over 23 years we have provided quality general dentistry, orthodontic care, dentures and cosmetic dentistry for the people of Tinley Park, IL and the surrounding areas.
Our services include:
Cleaning
Dentures
Fillings
Invisalign- straighten teeth without braces!
Teeth whitening
When you come to Dr. Gattone's office our mission is to provide you with a comfortable environment in which you can obtain dental care from a professional and caring staff, and to offer the entire family comprehensive dentistry while maintaining quality and affordability.
Whether you are coming to us for a basic dental cleaning procedure, root canal therapy or you need your implants restored, we will do whatever we can to ensure that your dental experience with us is as comfortable and as relaxing as possible.
New patients are always welcome and we offer discounts to seniors.
For an appointment for dental care for you and your family, call today.
For more information about our services or to make an appointment, please call Guy H. Gattone, DDS today. We look forward to helping you with your dental health.