Posts for: October, 2016
By Guy H. Gattone, DDS
October 21, 2016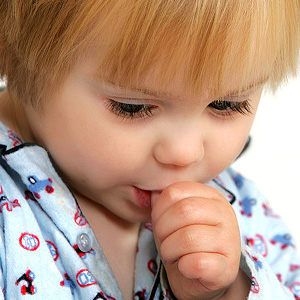 There's something universal about thumb sucking: nearly all babies do it, and nearly all parents worry about it. While most such worries are unfounded, you should be concerned if your child sucks their thumb past age of 4 — late thumb sucking could skew bite development.
Young children suck their thumb because of the way they swallow. Babies move their tongues forward into the space between the two jaws, allowing them to form a seal around a nipple as they breast or bottle feed. Around age 4, this "infantile swallowing pattern" changes to an adult pattern where the tip of the tongue contacts the front roof of the mouth just behind the front teeth. At the same time their future bite is beginning to take shape.
In a normal bite the front teeth slightly overlap the bottom and leave no gap between the jaws when closed. Â But if thumb sucking continues well into school age, the constant pushing of the tongue through the opening in the jaws could alter the front teeth's position as they erupt. As a result they may not fully erupt or erupt too far forward. This could create an open bite, with a gap between the upper and lower teeth when the jaws are closed.
Of course, the best way to avoid this outcome is to encourage your child to stop thumb sucking before they turn four. If, however, they're already developing a poor bite (malocclusion), all is not lost — it can be treated.
It's important, though, not to wait: if you suspect a problem you should see an orthodontist for a full evaluation and accurate diagnosis. There are even some measures that could discourage thumb sucking and lessen the need for braces later. These include a tongue crib, a metal appliance placed behind the upper and lower incisors, or exercises to train the tongue and facial muscles to adopt an adult swallowing pattern. Often, a reward system for not sucking their thumbs helps achieve success as well.
Thumb-sucking shouldn't be a concern if you help your child stop before age 4 and keep an eye on their bite development. Doing those things will help ensure they'll have both healthy and straight teeth.
If you would like more information on thumb sucking, please contact us or schedule an appointment for a consultation. You can also learn more about this topic by reading the Dear Doctor magazine article "How Thumb Sucking Affects the Bite."
By Guy H. Gattone, DDS
October 06, 2016
Can you have healthy teeth and still have gum disease? Absolutely! And if you don't believe us, just ask actor David Ramsey. The cast member of TV hits such as Dexter and Arrow said in a recent interview that up to the present day, he has never had a single cavity. Yet at a routine dental visit during his college years, Ramsey's dentist pointed out how easily his gums bled during the exam. This was an early sign of periodontal (gum) disease, the dentist told him.
"I learned that just because you don't have cavities, doesn't mean you don't have periodontal disease," Ramsey said.
Apparently, Ramsey had always been very conscientious about brushing his teeth but he never flossed them.
"This isn't just some strange phenomenon that exists just in my house — a lot of people who brush don't really floss," he noted.
Unfortunately, that's true — and we'd certainly like to change it. So why is flossing so important?
Oral diseases such as tooth decay and periodontal disease often start when dental plaque, a bacteria-laden film that collects on teeth, is allowed to build up. These sticky deposits can harden into a substance called tartar or calculus, which is irritating to the gums and must be removed during a professional teeth cleaning.
Brushing teeth is one way to remove soft plaque, but it is not effective at reaching bacteria or food debris between teeth. That's where flossing comes in. Floss can fit into spaces that your toothbrush never reaches. In fact, if you don't floss, you're leaving about a third to half of your tooth surfaces unclean — and, as David Ramsey found out, that's a path to periodontal disease.
Since then, however, Ramsey has become a meticulous flosser, and he proudly notes that the long-ago dental appointment "was the last we heard of any type of gum disease."
Let that be the same for you! Just remember to brush and floss, eat a good diet low in sugar, and come in to the dental office for regular professional cleanings.
If you would like more information on flossing or periodontal disease, please contact us today to schedule an appointment for a consultation. You can also learn more by reading the Dear Doctor magazine article "Understanding Gum (Periodontal) Disease."