Posts for: April, 2018
By Guy H. Gattone, DDS
April 20, 2018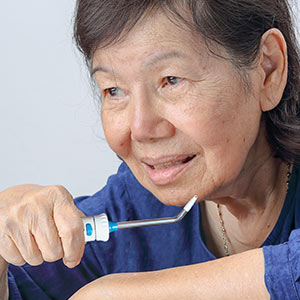 The most important part of dental health maintenance isn't what your dentist does—it's what you do every day when you brush and floss your teeth. And all you really need is a multi-tufted, soft bristle toothbrush, toothpaste, a roll of dental floss—plus a little effort from your hands and fingers.
Of course, manual power isn't your only option—an electric or battery-powered toothbrush is a convenient and, for people with strength or dexterity issues, a necessary way to remove disease-causing plaque from tooth surfaces. You have a similar option with flossing—a water flosser.
Although water flossers (or oral irrigators) have been around since the early 1960s, they've become more efficient and less expensive in recent years. A water flosser delivers a pulsating stream of pressurized water between the teeth through a handheld device that resembles a power toothbrush, but with a special tip. The water action loosens plaque and then flushes it away.
While the convenience these devices provide over traditional flossing is a major selling point, they're also quite beneficial for people with special challenges keeping plaque from accumulating between teeth. People wearing braces or other orthodontic devices, for example, may find it much more difficult to effectively maneuver thread floss around their hardware. Water flossing can be an effective alternative.
But is water flossing a good method for removing between-teeth plaque? If performed properly, yes. A 2008 study, for example, reviewed orthodontic patients who used water flossing compared to those only brushing. The study found that those using water flossing were able to remove five times as much plaque as the non-flossing group.
If you're considering water flossing over traditional flossing thread, talk with your dental hygienist. He or she can give you advice on purchasing a water flosser, as well as how to use the device for optimum performance. It could be a great and more convenient way to keep plaque from between your teeth and harming your dental health.
If you would like more information on water flossing, please contact us or schedule an appointment for a consultation. You can also learn more about this topic by reading the Dear Doctor magazine article "Cleaning between Your Teeth: How Water Flossing can help."
By Guy H. Gattone, DDS
April 10, 2018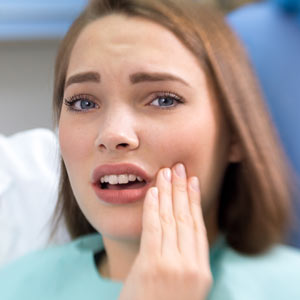 In an instant, an accident could leave you or a loved one with a missing tooth. Thankfully, we can restore it with a dental implant that looks and functions like a real tooth—and the sooner the better.
But if the patient is a teenager or younger, sooner may have to be later. Because their jaws are still developing, an implant placed now could eventually look as if it's sinking into the gums as the jaw continues to grow and the implant doesn't move. It's best to wait until full jaw maturity around early adulthood and in the meantime use a temporary replacement.
But that wait could pose a problem with bone health. As living tissue, bone cells have a life cycle where they form, function and then dissolve (resorption) with new cells taking their place. This cycle continues at a healthy rate thanks to stimulation from forces generated by the teeth during chewing that travel through the roots to the bone.
When a tooth goes missing, however, so does this stimulation. Without it the bone's growth cycle can slow to an unhealthy rate, ultimately reducing bone volume.  Because implants require a certain amount of bone for proper placement and support, this could make it difficult if not impossible to install one.
We can help prevent this by placing a bone graft immediately after the removal of a tooth within the tooth's "socket." The graft serves as a scaffold for new bone cells to form and grow upon. The graft will eventually resorb leaving the newly formed bone in its place.
We can also fine-tune and slow the graft's resorption rate. This may be preferable for a younger patient with years to go before their permanent restoration. In the meantime, you can still proceed with other dental treatments including orthodontics.
By carefully monitoring a young patient's bone health and other aspects of their dental care, we can keep on course for an eventual permanent restoration. With the advances in implantology, the final smile result will be worth the wait.
If you would like more information on dental care for trauma injuries, please contact us or schedule an appointment for a consultation. You can also learn more about this topic by reading the Dear Doctor magazine article "Dental Implants for Teenagers: Factors Influencing Treatment Planning in Adolescents."