Posts for: November, 2021
By Guy H. Gattone, DDS
November 11, 2021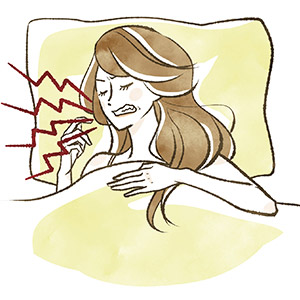 We like to think we're more prone to stress in our modern, fast-paced world than those who lived in "simpler" times, but a finding from the recent discovery of Richard the III's remains in England suggests differently. Investigators noted the king had well-worn teeth, perhaps from grinding them out of stress.
We can't be sure this was the cause for the king's dental problems, or if teeth grinding was common in the 15th Century. But we are sure the problem exists today among adults.
Tooth grinding is the grinding, gnashing or clenching of teeth involuntarily when not engaged in regular dental functions like eating or speaking. It can occur while a person is awake, but most often while they're asleep.
The habit regularly occurs in children, but is not considered a major problem as most outgrow it by adolescence, usually with no lingering damage. Not so with adults: Because the habit generates abnormally high biting forces, teeth grinding can lead to accelerated tooth wear. It can also weaken teeth, making them more susceptible to fracture or disease.
People who grind their teeth will typically awaken with sore jaws or the complaints of family members about the loud chattering noise emitted during an episode. If you suspect a problem, you should see your dentist for a definitive diagnosis, and to learn how to reduce its occurrence and effects.
Treatments for the habit vary depending on underlying causes. They may involve lifestyle changes like quitting tobacco, limiting alcohol or altering your use of certain drugs or medications.  Because stress is often a major factor, learning better relaxation techniques through meditation, group therapy or biofeedback may also help reduce teeth grinding.
These treatments, though, can take time, so you may also need ways to minimize the effects of the habit in the meantime. One of those ways is for your dentist to create an occlusal guard that you wear while you sleep. The guard prevents the teeth from making solid contact, thus reducing the potential biting forces.
It's important, then, to see your dentist as soon as possible if you suspect you're grinding your teeth. Finding out as early as possible and then taking positive steps to stop or reduce its effect can save your teeth from a good deal of harm.
If you would like more information on teeth grinding, please contact us or schedule an appointment for a consultation. You can also learn more about this topic by reading the Dear Doctor magazine article "Teeth Grinding."
By Guy H. Gattone, DDS
November 01, 2021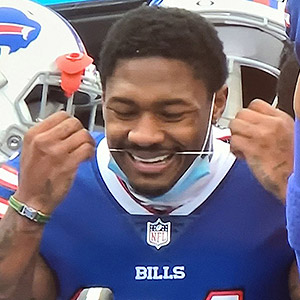 Buffalo Bills wide receiver Stefon Diggs wrapped up the NFL regular season in January, setting single-season records in both catches and receiving yards. The Bills handily beat the Miami Dolphins, earning themselves the second seed in the AFC playoffs, and Diggs certainly did his part, making 7 catches for 76 yards. But what set the internet ablaze was not Diggs' accomplishments on the field but rather what the camera caught him doing on the sidelines—flossing his teeth!
The Twitterverse erupted with Bills fans poking fun at Diggs. But Diggs is not ashamed of his good oral hygiene habits, and CBS play-by-play announcer Kevin Harlan expressed his support with "Dental hygiene is something to take note of, kids! There's never a bad place to floss" and "When you lead the NFL in catches and yards, you can floss anytime you want."
We like to think so. There's an old joke among dentists:
Q. Which teeth do you need to floss?
A. Only the ones you want to keep.
Although this sounds humorous, it is borne out in research. Of note, a 2017 study showed that people who floss have a lower risk of tooth loss over periods of 5 years and 10 years, and a 2020 study found that older adults who flossed lost an average of 1 tooth in 5 years, while those who don't lost around 4 teeth in the same time period.
We in the dental profession stress the importance of flossing as a daily habit—and Stefon Diggs would likely agree—yet fewer than 1 in 3 Americans floss every day. The 2016 National Health and Nutrition Examination Survey (NHANES), conducted by the CDC's National Center for Health Statistics, revealed that only 30% of Americans floss every day, while 37% floss less than every day and 32% never floss.
The biggest enemy on the football field may be the opposing team, but the biggest enemy to your oral health is plaque, a sticky film of bacteria and food debris that builds up on tooth surfaces. Plaque can cause tooth decay and gum disease, the number one cause of tooth loss among adults. Flossing is necessary to remove plaque from between teeth and around the gums where a toothbrush can't reach. If not removed, plaque hardens into tartar, which can only be removed by the specialized tools used in the dental office. Regular professional dental cleanings are also needed to get at those hard-to-reach spots you may have missed.
If Diggs can find time to floss during a major NFL game, the rest of us can certainly find a couple minutes a day to do it. While we might not recommend Diggs' technique of flossing from one side of the mouth to the other, we commend his enthusiasm and commitment to keeping his teeth and gums healthy. Along with good dental hygiene at home—or on the sidelines if you are Stefon Diggs—regular professional dental cleanings and checkups play a key role in maintaining a healthy smile for life.
If you would like more information about keeping in the best dental health, please contact us or schedule a consultation. To learn more, read the Dear Doctor magazine article "Daily Oral Hygiene."