Posts for category: Uncategorized
By Guy H. Gattone, DDS
December 06, 2018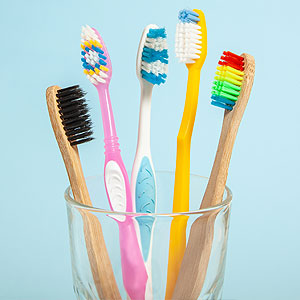 If there's one essential tool for protecting your dental health, it's the humble toothbrush. The basic manual brush with a long, slender handle and short-bristled head is still effective when used skillfully. The market, though, is full of choices, all of them touting their brand as the best.
So how do you choose? You can cut through any marketing hype with a few simple guidelines.
First, understand what you're trying to accomplish with brushing: removing dental plaque, that thin film of bacteria and food particles on tooth surfaces that's the main cause of dental disease. Brushing also stimulates gum tissue and helps reduce inflammation.
With that in mind, you'll first want to consider the texture of a toothbrush's bristles, whether they're stiff (hard) or more pliable (soft). You might think the firmer the better for removing plaque, but actually a soft-bristled brush is just as effective in this regard. Stiffer bristles could also damage the gums over the long term.
Speaking of bristles, look for those that have rounded tips. In a 2016 study, less rounded tips increased gum recession in the study's participants by 30%. You should also look for toothbrushes with different bristle heights: longer bristles at the end can be more effective cleaning back teeth.
As far as size and shape, choose a brush that seems right and comfortable for you when you hold it. For children or people with dexterity problems, a handle with a large grip area can make the toothbrush easier to hold and use.
And look for the American Dental Association (ADA) Seal of Acceptance, something you may have seen on some toothpaste brands. It means the toothbrush in question has undergone independent testing and meets the ADA's standards for effectiveness. That doesn't mean a particular brush without the seal is sub-standard—when in doubt ask your dentist on their recommendation.
Even a quality toothbrush is only as effective as your skill in using it. Your dental provider can help, giving you tips and training for getting the most out of your brush. With practice, you and your toothbrush can effectively remove disease-causing plaque and help keep your smile beautiful and healthy.
If you would like more information on what to look for in a toothbrush, please contact us or schedule an appointment for a consultation. You can also learn more about this topic by reading the Dear Doctor magazine article "Sizing up Toothbrushes."
By Guy H. Gattone, DDS
May 08, 2016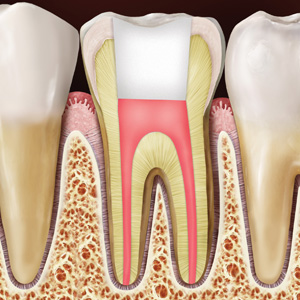 One of the most effective techniques for saving decayed or injured teeth is the root canal treatment. Yet when many people hear they need it, they become nervous at the prospect.
Much of this stems from a common misunderstanding that undergoing a root canal is painful. It's not — today's anesthetics are quite effective in numbing pain during a procedure, and mild pain relievers like ibuprofen are usually sufficient to manage any discomfort afterwards.
In fact, a root canal treatment relieves pain caused by decay within a tooth. As decay progresses, it can enter the interior known as the pulp, which contains bundles of nerves and blood vessels. It attacks these nerves causing pain and infection. If the infection progresses through passageways known as root canals that are in the roots of the tooth, the pain can intensify. More important, the tooth is in danger of loss as the root and connective tissues that hold the tooth in place are injured from the spreading infection.
During a root canal treatment, we access the pulp by drilling a small access hole, usually in the biting surface or in the rear of a front tooth. Once we enter the pulp chamber we remove all the contaminated tissue. Once thoroughly cleansed, we fill the empty chamber and canals with a special filling (usually gutta percha) to prevent future infection. The access hole is then sealed and at a subsequent visit we strongly recommend placing a permanent crown to provide further protection from damage to the tooth.
Root canal treatments are quite common. All general dentists have been trained in endodontic treatment and can perform most types of procedures. More difficult cases (like a complex root canal network that may be hard to access) may require the services of an endodontist, a specialist in root canals. Endodontists use advanced techniques and specialized microscopic equipment to treat complicated situations.
It's actually good news if we recommend you undergo a root canal treatment — it means your tooth has a good chance of survival once it's disinfected and the decay is removed. But don't delay: the sooner we can treat your tooth, the better your chances of a healthy outcome.
If you would like more information on root canal treatment, please contact us or schedule an appointment for a consultation. You can also learn more about this topic by reading the Dear Doctor magazine article "Common Concerns about Root Canal Treatment."